How To Setup Google Search Indexing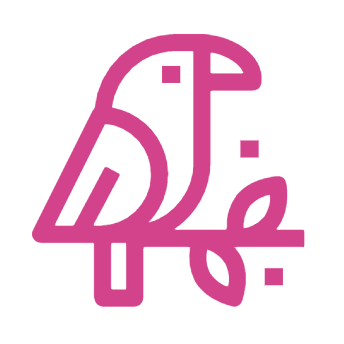 TagParrot
—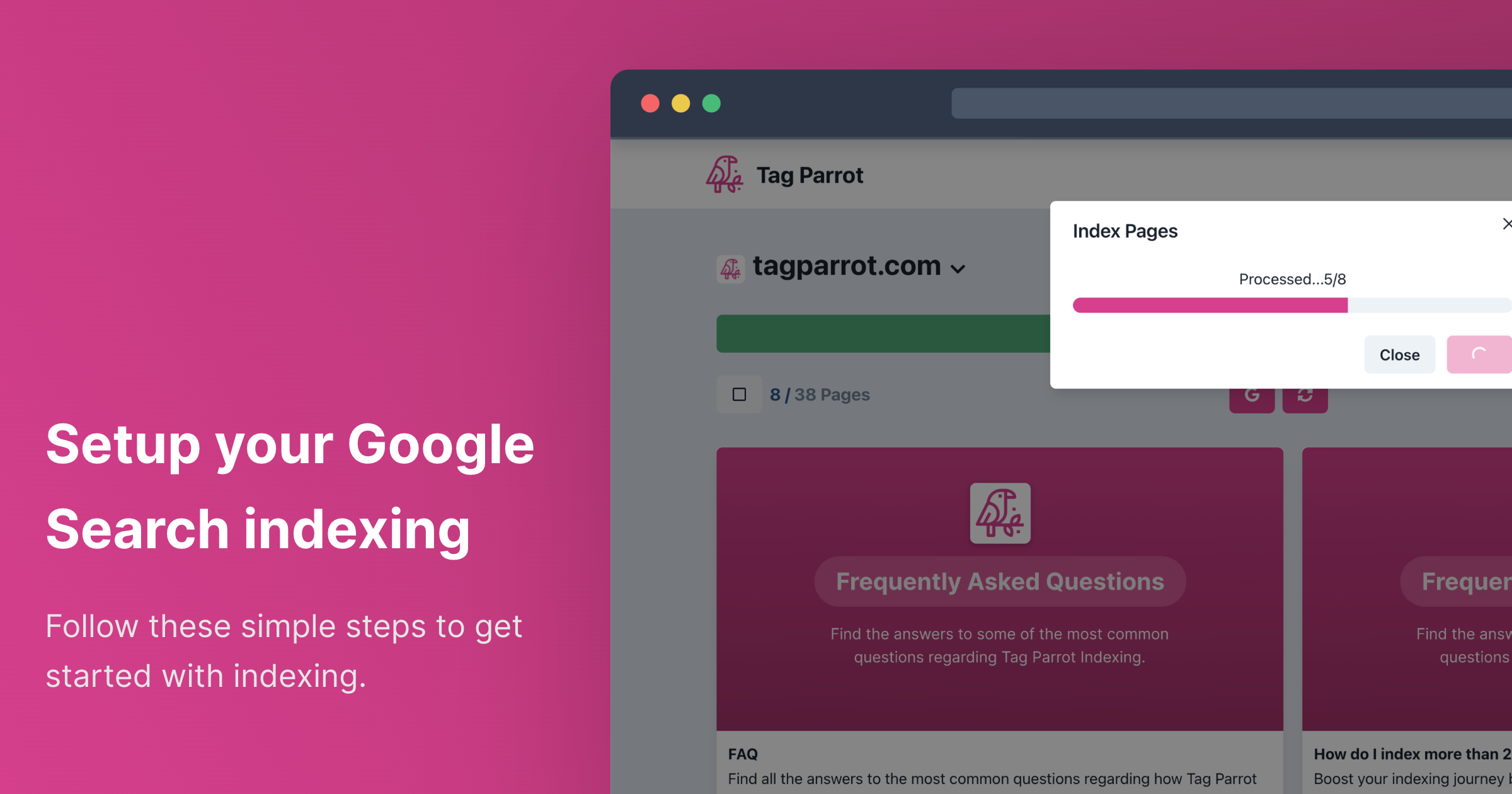 Looking to get your website indexed much faster by Google? You've come to the right place. Stop waiting for months for your sitemap to be fully crawled by Google. With Tag Parrot, you can set up automated indexing in just minutes.
This results in getting all of your website's pages indexed as quickly as possible – requests are usually processed by Google within 24 hours. Are you ready to start indexing?
Ready to Start Indexing?
Great! Follow the guide below for a complete walk-through of the process.
Step 1 - Enable Your Website
To get started, log in to Tag Parrot using the same account that you manage your websites with in Google Search Console. We will automatically sync all of your websites from Google Search Console.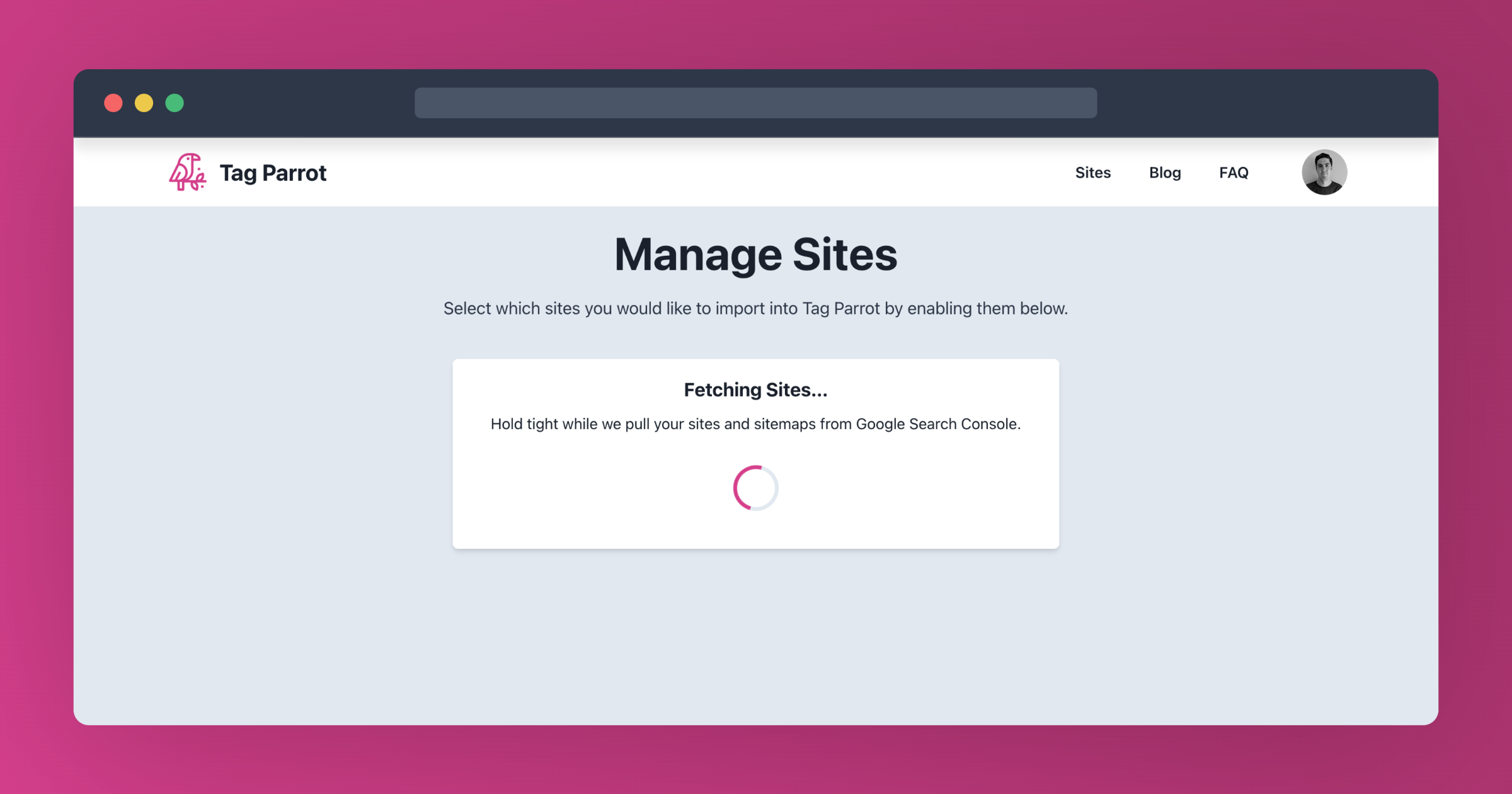 You should now see a full list of all properties that you have access to within your Google Search Console account. Along side the permissions you have for each site. As long as you have either Full User or Owner permission you can use the site with Tag Parrot.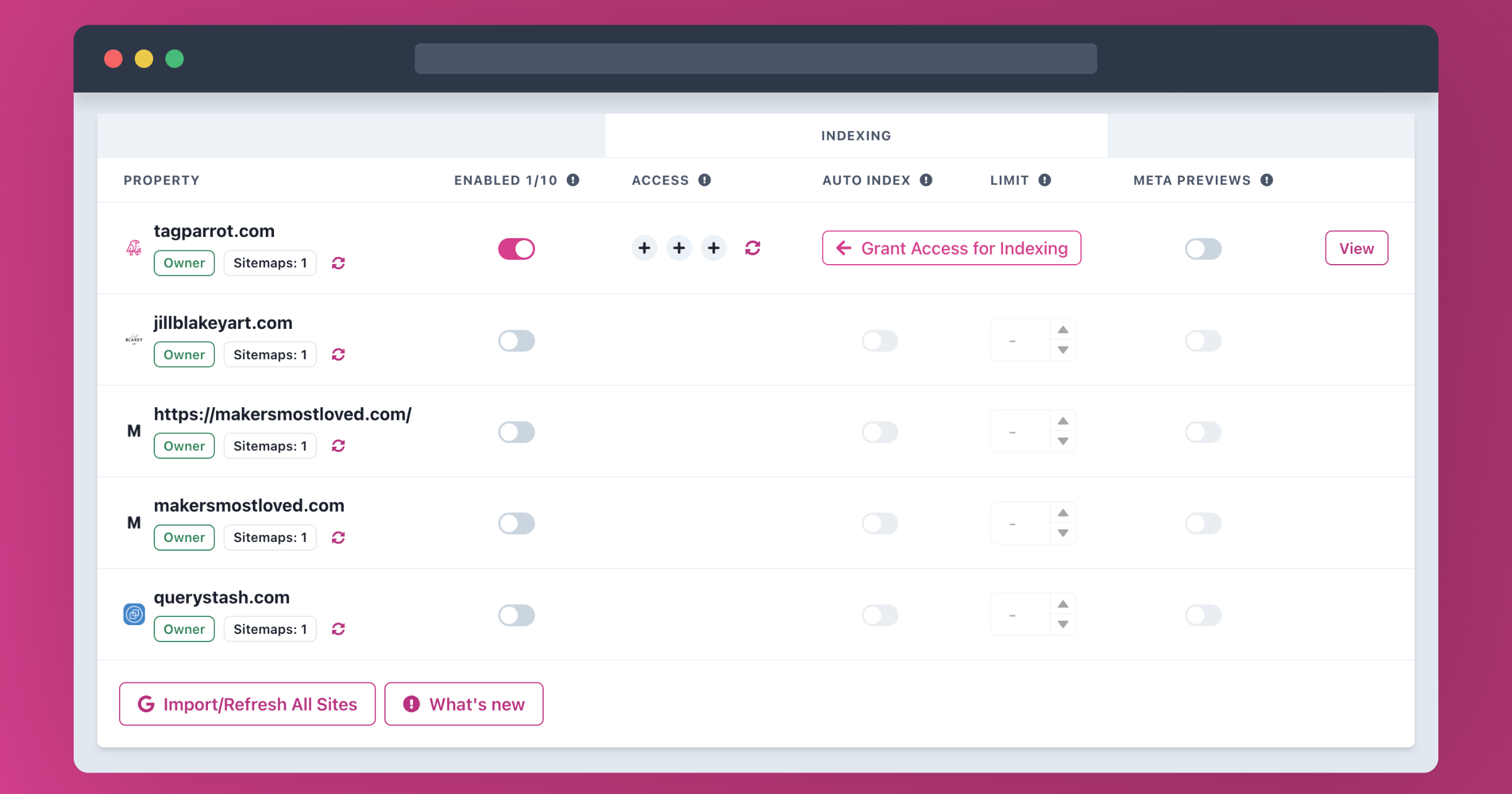 You will also notice we sync your sitemaps. In situations where you don't want all sitemaps to be crawled, these can be turned on/off by clicking the Sitemap button.
Learn more about sitemap.xml
To turn on your first website simply click the Enable switch next to the site property that you wish to enable.
Step 2 - Authorize Tag Parrot to Index Pages with Google
To enable indexing with Google, we first need to be granted permissions to interact with your site on Google Search Console.
If you've already upgraded your Tag Parrot account to a paid plan, you'll be automatically provisioned with a unique service account that will act as the user who interacts with your site. If you opted for one of our bigger plans you will be provisioned multiple service accounts depending on your daily index quota.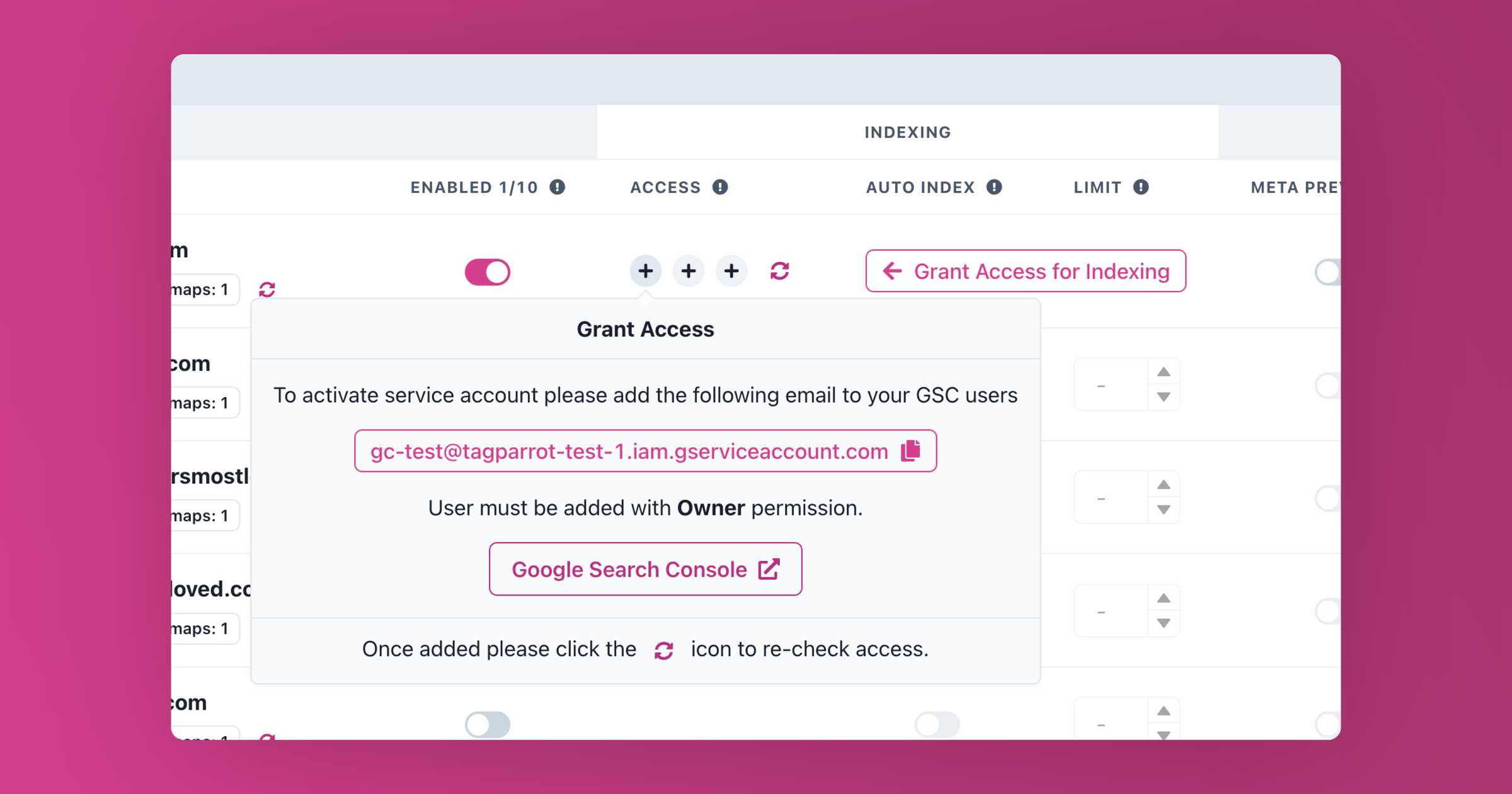 Simply hover over one of the + icons in the access column, click the email address to copy it, then click on the button below to be taken directly to the Google Search Console settings page for your domain (Settings -> Users and permissions).
Click the Add User button and paste the email into the form as shown below. Select Permissions as Owner and then click Add.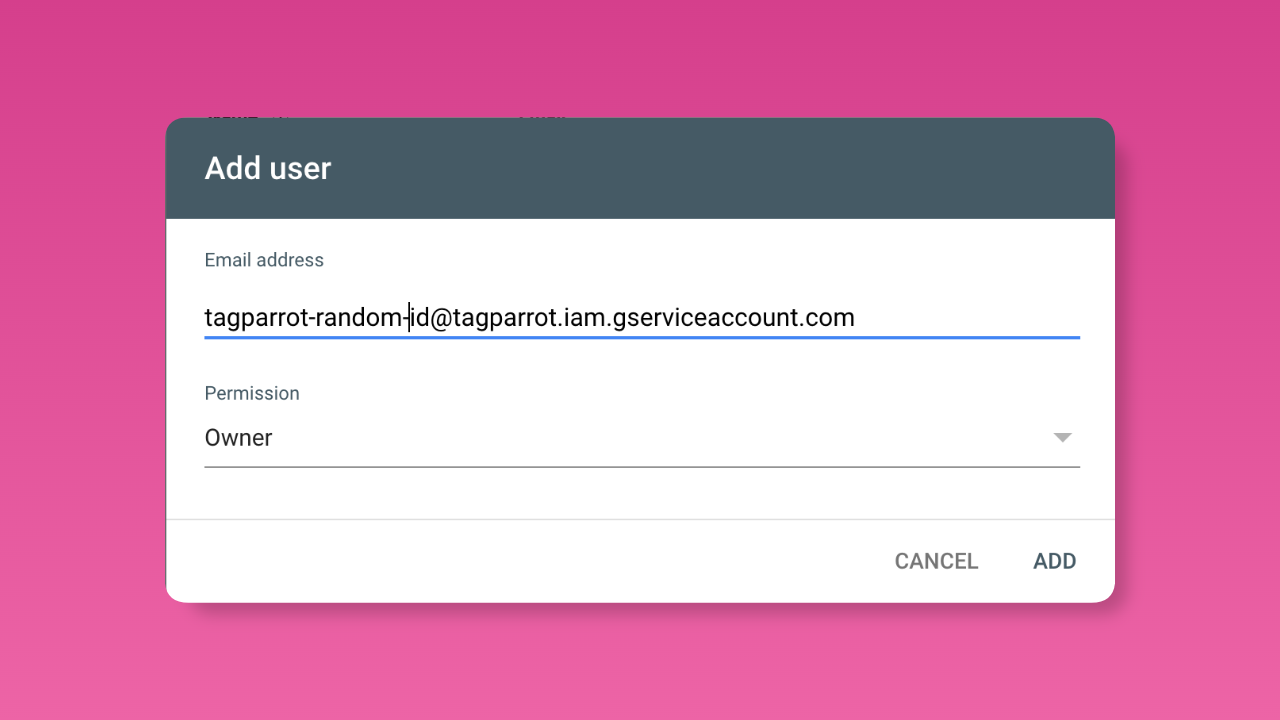 Why Owner? This is the only permission type that is able to submit pages for indexing for a domain. To confirm this access will not allow us to do anything else other than request URLs to be indexed, remove a URL from the index, or check the status of a requested URL. We have no control or access to any other parts of Google Search Console.
Next up lets test indexing a page.
Step 4 - Manually Test Indexing a Page
To test the product's core feature, "get my page indexed," go back to your site dashboard and find the page you want to test. Simply click the Google icon at the bottom of the card preview. You'll see a green notification box to confirm indexing if everything goes well.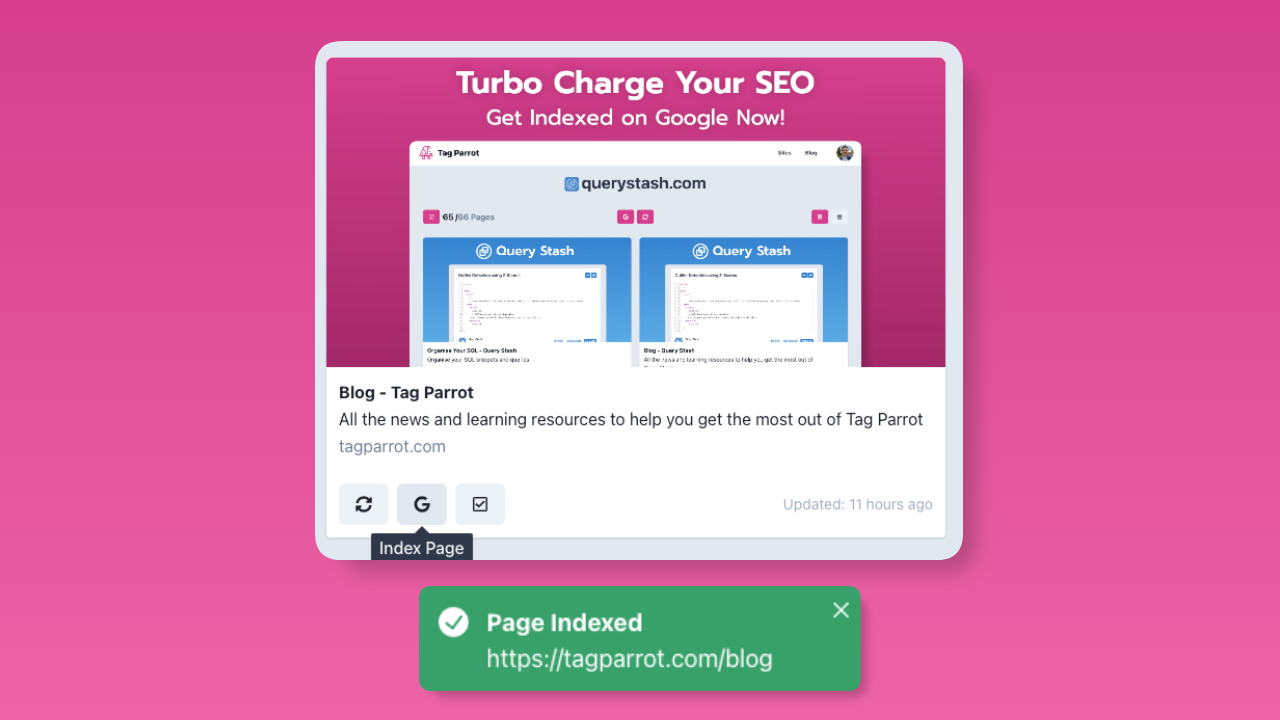 Step 5 - Index All Your Pages
Ready to finally index every page on your website? Use the checkboxes on each card preview to select a specific list of pages, or use the filter menu to select all valid pages or all non-indexed pages. Once you've selected your pages, click the pink Google icon button at the top of the page list to start the indexing process.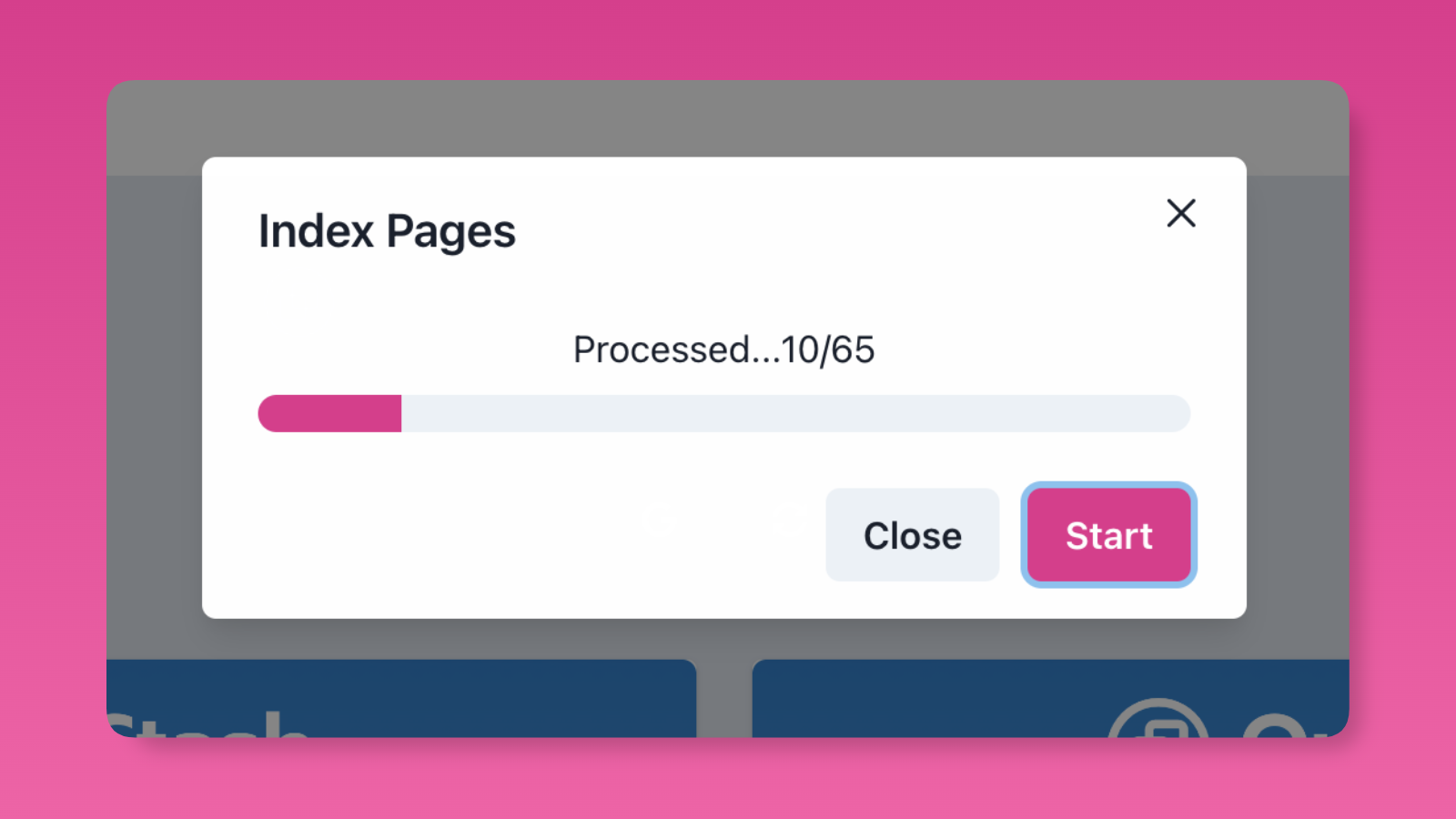 Success
Great job! You've successfully requested indexing for all your website pages. It typically takes up to 24 hours for the pages to be indexed. You can check Google Search Console to confirm that the process has been successful.
Although it may have seemed like a lot of steps, in reality, the entire process only takes a few minutes to complete.
Next up, why not setup auto-indexing of pages to Google.